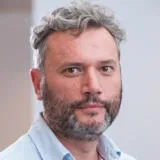 Dr Alessio Delogu PhD
Senior Lecturer
Contact details
Biography
My lab investigates the development and function of diverse classes of inhibitory neurons in subcortical brain structures, with emphasis on the thalamus. The thalamus plays a central role in sensory perception, attention and the sleep-wake cycle, and its dysfunction contributes to several psychiatric disorders. Our experimental approach relies on the combined application of functional neuroanatomy, genetics and behavioural tests to ultimately understand the role of inhibitory neurons in health and disease.
Please see my Research Staff Profile for more detail
Key collaborators:
Professor Stephen Brickley, Imperial College London
Dr Katherine Long, King's College London. UK.
Dr Tomomi Shimogori, RIKEN Centre for Brain Science, Japan.
Dr Kaia Achim, University of Helsinki. Finland.