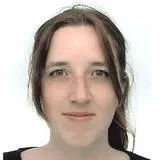 Mrs Alexandra Mallet-Collins
Teacher of French
Contact details
Biography
Alexandra has taught English for Academic Purposes, French Literature and Literary Translation, in French and English universities.
She joined King's College London in 2014 where she mainly teaches French and translation. She is a coordinator for the French Ab Initio pathway and as such works across the Modern Language Centre and the Department of French.
Research interests and PhD supervision
Comparative Literature
Translated literature
Translation criticism
Publishing strategies for translated literature
Alexandra's research is interdisciplinary, she uses research in literary criticism to analyse the impact of the status of translated literature on its readability. She supervises research in translated literature, translation criticism and publishing strategies for translated literature.
Teaching
Her teaching ranges from academic writing and speaking for Ab Initio undergraduates in French, to rhetoric and creative writing for native speakers. She specialises in Comparative Literature and Translation Studies and teaches literary translation. She is a keen reader and runs King's Reading Club for the Choix Goncourt UK.
Selected publications
Du paratexte au texte, l'unité composite de l'œuvre traduite », pp.143-157 in Equivalences, n°45/1-2, Des unités de traduction à l'unité de la traduction, Nicolas Froeliger, Lance Hewson, Christian Balliu (dir.), 2018
Quand la traduction se fait perversion : de l'apologie d'un nouvel ordre social à la farce. Etude de la représentation de l'homme noir dans « The Gold Bug » d'Edgar Poe et dans sa traduction française par Charles Baudelaire » pp.119-128 in Images changeantes de l'Inde et de l'Afrique, Geetha Ganapathy-Doré, Michel Olinga (eds), L'Harmattan : Paris, 2011