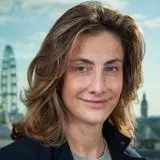 Alice Sherwood
Visiting Senior Research Fellow
Biography
Alice Sherwood's principal research interest is authenticity and authentication. Her book Authenticity: Reclaiming Reality in a Counterfeit Culture  will be published on the 12 May 2022, by HarperCollins.
She is currently is a Non-Executive Director of Ridgeway Information, which provides open-source intelligence for commercial clients, governments, ​and the third sector, a trustee of The Hay Festival Foundation and of the Beit Fellowship at Imperial College London, and Chairman of Rising Tide, an early career network for women.
Alice has worked as a management consultant for Accenture, as well as in retail strategy consultancy and private equity. She spent over 10 years in documentary television production for the BBC, ITV and Channel 4 before moving to online production at the BBC. She was BBC's Head of Audience of the Digital Curriculum project before leaving to become Head of Production for London Gifted & Talented.
She holds undergraduate degrees in chemistry and philosophy, and an MBA from INSEAD, France.