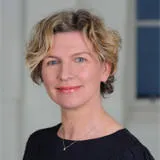 Alison Duthie
Director, Programming
Contact details
Biography
The Director, Programming is responsible for working with faculties and students to develop and implement a programme of public facing activity, in collaboration with artists and cultural organisations, that supports delivery of the university's core priorities of research, education and service. 
Alison joined King's in August 2012, bringing a long track record of success in developing and implementing programming strategies in a wide range of venues and cultural organisations. From 1996 to 2005, she was CEO/Director of artsdepot, a new north London theatre and arts centre, where she led on the centre's concept, building and programme, overseeing a major capital mixed use development.
In 2006 she joined the Royal Opera House as Head of ROH2, where she established an award-winning programme of collaborative and innovative initiatives to support creative artists, develop emerging art forms and engage new audiences.