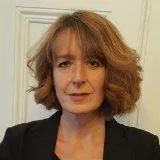 Alison Pargeter
Senior Research Fellow
Contact details
Biography
Alison Pargeter is a Senior Research Fellow at the School of Security Studies, King's College London and a Senior Visiting Fellow at the Institute of Middle Eastern Studies.
Her primary research focus is political and security issues in North Africa and the Middle East, with a particular emphasis on Libya and Iraq. She is currently undertaking a major study titled, 'Tribes as Political and Security Actors in Libya and Iraq' that is being funded by the Smith Richardson Foundation and carried out in conjunction with Professor Jonathan Hill.
Her other main area of research is on political Islamist movements, especially the Muslim Brotherhood. She has conducted two major studies of the Brotherhood and its affiliates including an examination of the movement after the Arab Spring. Alison also led an ESRC-funded research project on Radicalisation in North Africa that was based at the University of Cambridge and that included Libya, Tunisia, Morocco and Algeria as case study countries.
Alison has published widely in her field and her books include, Return to the Shadows: The Muslim Brotherhood and An-Nahda after the Arab Spring (2016); Libya: The Rise and Fall of Gaddafi (2012); The Muslim Brotherhood: The Burden of Tradition (2010); and The New Frontiers of Jihad: Radical Islam in Europe (2008). She regularly briefs policymakers and gives presentations at international conferences, as well as serving as an expert witness in the UK courts. Alison is also a Senior Associate at global consulting firm, Menas Associates.