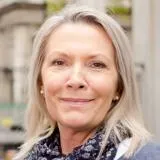 Alison Robson
EAP Tutor
Contact details
Biography
Alison holds a BA (Hons) in English & Drama and a PGCE in English Literature. She has also completed the Cambridge CELTA and the Cambridge Diploma in English Language Teaching to Adults (DELTA). She is currently studying part-time for an MA in Applied Linguistics and ELT.
She has worked overseas for the past 25 years for a number of educational organisations, including time as a secondary school teacher in Brunei Darussalam and the Sultanate of Oman and more recently in Borneo at Curtin University where she was an EAP tutor in the English Language Centre. From 2012 to 2016 she was Deputy Director for the British Council Pro-ELT Teacher Training project Kuala Lumpur before relocating to London with her family.
Her professional interests include the assessment of written English, English as a Lingua Franca and intercultural rhetoric. Her hobbies include sailing, yoga and voluntary work at a local animal shelter.