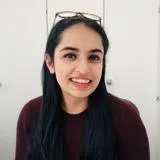 Amina Shahbaz
BNP Paribas
Biography
I am five months into my placement year at BNP Paribas, a major name in banking that is particularly known for its strong international presence in commercial real estate. My role is in its real estate division's business generation and client services team.
Securing this placement was a journey in itself. The interview process was demanding, with a video interview, phone interview and a final face to face interview. The amount of preparation required gave me a taste of what it takes to succeed in London's fast paced and challenging financial hub, and also a chance to decide whether this was the right role for me.
The answer was 'yes'. From the first day at BNP Paribas I felt as if I was treated like any other employee, with a full program of inductions, conferences and meetings with our leading stakeholders in the property industry.
My role is to support the team in generating new business and in growing our relationship with existing clients. A typical day challenges my analytical, communications and organizational skills.  For example, I might work on market and competitor analysis, make sure an online and direct mail campaign gets mailed to our client base to generate more leads and deal with an international referral from our wider network.
I have quickly learned that there is a difference between theoretical knowledge and practical experience. My previous knowledge of market research and sales was high-level, but now I know how the process works from start to finish. For instance, I know what questions you need to ask in order to understand a market. This has helped me to make my research more focused, and I have learned how to present my findings more clearly and succinctly.
I've also learned some new technical and analytical skills, mastering some software I'd never used before to enable the team to track their marketing costs against the revenues from each transaction won. 
With a few months to go I can already say that the experience has been enriching, motivating, and most importantly, challenging. I have been lucky to be placed in a team that is always ready to lend a helping hand and is genuinely interested in helping me to grow and develop, and the team at King's has stayed in touch with me and my host supervisor to help me make the most of my time here.
I would definitely encourage fellow students to take a placement year. It is a great opportunity to turn theoretical knowledge into practical experience, to explore the industry you are interested in, and the chance to build a network to support you in your future career.