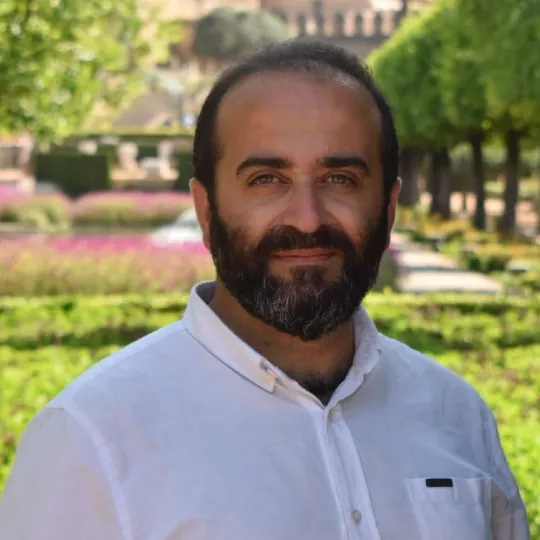 Dr Amjed Rasheed
Lecturer in Defence Studies
Fellow at the Institute of Middle Eastern Studies
Research interests
Conflict
Security
Politics
History
Contact details
Biography
Amjed is currently working as a Lecturer in Defence Studies (Assistant Professor) in the Defence Studies Department. He earned his PhD from Durham University's School of Government and International Affairs in 2017, focusing on the role of leaders in shaping foreign policy, with a specific emphasis on Iraq and Syria.
Before his tenure at King's College, Amjed held academic positions at Tübingen University's Institute of Political Science from 2020 to 2021 and at Lancaster University's Department of Politics, Philosophy, and Religion from 2022 to 2023. In addition, he served as the Hillary Rodham Clinton Fellow at Queen's University Belfast's School of History, Anthropology, Philosophy, and Politics from 2022 to 2023.
Qualifications
PhD in politics, Durham University (2017)
Master of Research in International Affairs, University of Glasgow (2012)
Master of Art in International Peace Studies, University for Peace (Costa Rica, 2009)
BA in Political Science, Mosul University (Iraq, 2005)
Research Interests
War and Peace Studies
International Relations and Foreign Policy Analysis
West Asia and North Africa, WANA (Middle East) politics and international relations
Amjed is currently participating in various interdisciplinary research initiatives focused on China's growing influence in the WANA region, foreign and defence policies, as well as research related to PVE (Preventing Violent Extremism).
He accepts PhD applications in any of the aforementioned research themes.
Publications
Books
Rasheed, A. (2023). Power and Paranoia in Syria-Iraq Relations: The Impact of Hafez Assad and Saddam Hussain (1st ed.). Routledge. https://doi.org/10.4324/9781003344889
Beaujouan, J., Dudouet, V., Halilovic-Pastuovic, M., Hülzer, J.-M., Kortam, M., & Rasheed, A. (Eds.). (2023). Vulnerability and Resilience to Violent Extremism: An Actor-Centric Approach (1st ed.). Routledge. https://doi.org/10.4324/9781003424901
Ehteshami, A., Rasheed, A., & Beaujouan, J. (2020). Islam, IS and the Fragmented State: The Challenges of Political Islam in the MENA Region (1st ed.). Routledge. https://doi.org/10.4324/9780429280047
Beaujouan, J. and Rasheed, A (Eds). (2020). Syrian Crisis, Syrian Refugees. Voices from Jordan and Lebanon. Palgrave Pivot. https://doi.org/10.1007/978-3-030-35016-1
Book chapters
Rasheed, A. and Aziz, S. (2023). "Iraq amid Great Power Competition: A Case of Minimal Local Agency?" In China, Russia, and the USA in the Middle East: The Contest for Supremacy, Houghton, B. and Houghton, K. (eds.). London: Routledge. 131-144. https://www.taylorfrancis.com/chapters/edit/10.4324/9781003372011-11/iraq-amid-great-power-competition-amjed-rasheed-sardar-aziz
Ehteshami et al. (2023). "China and the Arab Region: Dynamics of Engagement" in China's Engagement with the Islamic Nations: A Clash or Collaboration of Modern Civilisation?

Kim, Y. (ed.), pp. 1-19. Cham: Palgrave Macmillan.

https://www.springerprofessional.de/en/china-and-the-arab-region-dynamics-of-engagement/25443332
Rasheed, A. (2018). "The KRG-Baghdad Relations from the First Republic to the Second Republic (1991-2017)" in Iraq After ISIS

, Eriksson, J and Khaleel A. (eds.), pp. 63-84. Cham: Palgrave Macmillan.

https://doi.org/10.1007/978-3-030-00955-7_5
Journal Articles
Rasheed, A. (Autumn 2023). The Political Economy of Sino-North Africa Relations. Afriche e Orienti (Special Issue)
Rasheed, A. Beaujouan, J. (2022). Investigating the role of religious institutions in the prevention of violent extremism in Nineveh province, Iraq. Journal of Deradicalisation

32: 76–109.

https://journals.sfu.ca/jd/index.php/jd/article/view/645
Rasheed, A. and al-Eshaq, S. (2022). The 'David' in a Divided Gulf: Qatar's Foreign Policy and the 2017 Gulf Crisis. Middle East Policy

29 (2): 30–45.

https://doi.org/10.1111/mepo.12623
Rasheed, A. (2022). The Narrative of the Rise of China and Authoritarianism in the Global South: The Case of Egypt. International Spectator

57 (2): 68–84.

https://doi.org/10.1080/03932729.2021.2009641
Rasheed, A. and Beaujouan, J. (2020). The Syrian Refugee Crisis in Jordan and Lebanon: Impact and Implications. Middle East Policy

27 (3): 76–98.

https://doi.org/10.1111/mepo.12514
Rasheed, A. (2018). Syria vs Iraq: Clash of Authoritarians. Middle East Policy

25 (4): 118–131.

https://doi.org/10.1111/mepo.12382