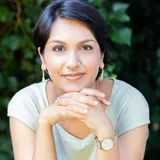 Angela Saini
Science journalist
Biography
Angela Saini (Science & Security, 2008) is an award-winning science journalist, broadcaster and author who graduated from King's College London's Department of War Studies.
Angela also has a master's in Engineering from the University of Oxford, and between 2012 and 2013 she was a Knight Science Journalism Fellow at the Massachusetts Institute of Technology.
Angela was born in London and is now based in New York. She started her career with ITN on its news trainee scheme before joining the BBC as a reporter, contributing to the flagship national News at Ten and winning a Prix CIRCOM European television news award.
Angela continues to present programmes for both television and BBC radio, and her writing has appeared across the world, including in the Financial Times, the Guardian, National Geographic, New Humanist, New Scientist, Science and WIRED. In 2018, Angela was voted one of the most respected journalists in the UK, and, in 2020, she was named one of the world's top 50 thinkers by Prospect magazine.
Angela's debut book, Geek Nation: How Indian Science is Taking Over the World, was published in 2011. This was followed by Inferior: How Science Got Women Wrong and the New Research That's Rewriting the Story, published by 4th Estate in 2017 and since translated into 14 languages. Angela's third book, Superior: The Return of Race Science, came out in 2019 to critical acclaim, and became a finalist for both the LA Times Book Prize and Foyles Book of the Year; her upcoming fourth book explores the origins of patriarchy.
In 2015, Angela won the American Association for the Advancement of Science's Kavli Science Journalism Gold Award for a BBC Radio 4 documentary about birdsong and human language. She has also received a Best Feature award from the Association of British Science Writers, and sits on the board. She is the founder of Challenging Pseudoscience at the Royal Institution of Great Britain and, in 2019, she was made an Honorary Fellow of the British Science Association.