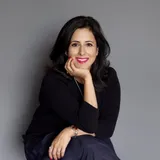 Anita Anand
Broadcaster and author
Biography
Anita Anand (English, 1993) trained as a journalist after graduating from King's, joining the newsroom of India's first privately owned satellite and cable channel, Zee TV. As political correspondent, she presented the talk show The Big Debate and the documentary series Raj Britannia, and, by 1997, she was European Head of News and Current Affairs and one of the youngest TV news editors in Britain at the age of 25.
Born in London in 1972 to Punjabi parents, Anita grew up in a Hindu household in Essex, where her first language was Urdu; she is also fluent in Hindi. In 2005, she won the Nazia Hassan Award in the upcoming television broadcaster category and a few years later she was at the BBC, working across TV and radio to present several news and current affairs programmes.
Anita anchored The World Today and Outlook on BBC World Service, and, for Radio 5 Live, she co-presented the weekday flagship current affairs programme Drive with Peter Allen, as well as hosting the late-night Anita Anand Show. She later took over Radio 4's popular Saturday phone-in Any Answers? from Jonathan Dimbleby.
Dubbed the next David Frost or Jeremy Paxman, Anita has also presented Beyond Westminster, The Westminster Hour, Midweek, Woman's Hour, Excess Baggage and Saturday Live for BBC Radio 4. On screen, Anita has presented Newsnight on BBC Two and used to share the sofa with Andrew Neil for Daily Politics (which came to a close in July 2018 after around 2,700 episodes); on BBC One, she hosted The Sunday Politics and Sunday-morning The Heaven and Earth Show.
During her career, Anita has covered the Pakistani elections, tracked India's most wanted criminal in Portugal, reported on the earthquake in Bhuj and has interviewed four presidents from south Asia, eight prime ministers from the sub-continent and three British prime ministers. She has also written for a variety of publications, including the Independent and The Asian Age newspaper, and been a columnist for the Guardian. Indeed, while a student in London, Anita won the Feature Writer of the Year award in the Guardian Young Journalist of the Year Awards, as well as an Independent bursary.
Anita's passion for writing has seen her publish three books. The acclaimed biography Sophia: Princess, Suffragette, Revolutionary came out in 2015, when Anita also presented a BBC One documentary about Princess Sophia Duleep Singh, a campaigner for women's suffrage and Indian independence. Koh-i-Noor: The History of the World's Most Infamous Diamond, co-authored with William Dalrymple, came out in 2017, followed by The Patient Assassin: A True Tale of Massacre, Revenge and The Raj, which won the PEN Hessell-Tiltman prize 2020.
Anita also hosts charity, literary and corporate events, and she is a patron of the Richmond Society and the Museum of Richmond. She lives in south-west London with her two sons and husband, the scientific author Simon Singh.