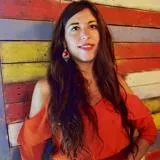 Dr Aoife Sadlier
Post-doctoral Research Associate
Contact details
Biography
Dr. Aoife Sadlier is an academic, Zumba Fitness instructor, LGBTQIA+ activist and global consultant for women's NGOs in Nepal.  Her research career has seen her weave together various academic disciplines and use her dance fitness practice as a way of connecting with diverse communities all over the world.  She holds a BMus (CIT), LRSM Diploma in Cello Performance (ABRSM), MA in Psychosocial Studies (Birkbeck College), B1 Certificate in Zumba Fitness Instruction (Zumba Fitness), and PhD in Culture, Media and Creative Industries (King's College London). She has particular interests in user-led mental health, sport, culture and education for sustainable development, gender and sexuality studies, and participatory research methodologies.
Aoife joined KCL in January 2020 as a post-doctoral researcher on the EURIKHA project, led by Professor Diana Rose and funded by the Wellcome Trust. This project is examining the histories and trajectories of social movements which privilege the perspectives of those who suffer from severe mental distress. She is analysing life history interviews undertaken as part of the study, engaging in archival research, and writing up papers for publication. She has also researched the role of sport and culture in enabling sustainable development in low- and middle-income countries, notably Nepal, East Timor and Cape Verde, as part of the 'New Development Frontiers' project in the School of Sport, Exercise and Health Sciences, Loughborough University.
Aoife has a forthcoming co-authored book on unconventional approaches to development, and has had a number of other articles published in international peer-reviewed journals such as Sexualities and Qualitative Research in Psychology.  She has also co-written a policy report for the ESRC/DFID 'Urban Community Resilience' policy series, which explores the role of sport and culture in fostering resilient communities.  In addition, Aoife is a keen creative writer and is currently writing her first novel.
Research Interests
User-led mental health
Sport, culture and education for sustainable development
Gender and sexuality studies
Participatory research methods
Expertise and Public Engagement
Aoife works in advocacy around mental health and LGBTQIA+ rights, using her role as a Zumba Fitness instructor to connect with diverse communities all around the world.  She has established connections with women's NGOs and the LGBTQIA+ community in Nepal, through her research and independent consultancy work.  In November 2019, she co-organised a fundraising Zumba event in Pokhara in conjunction with various women's charities and Nepali Zumba instructors, in honour of International Day for the Elimination of Violence Against Women. As part of the 'New Development Frontiers,' she co-produced a film titled 'The Phoenix – Youth for Change,' in conjunction with youths, academics and NGOs in Nepal.  She also led lectures and facilitated seminars  on the role of Sport for Development in competitive sport (National Sports Council, Kathmandu), the role of sport in mobilising youth for the future (National Academy of Science and Technology, Dhangadhi), and the role of dance in girls'/women's empowerment (SOS Bahini, Pokhara).  Aoife hopes to extend these collaborations in the future through further research and consultancy work.