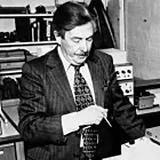 Professor Arnold Beckett (1920 - 2010)
Biography
Anti-doping pharmacist


Arnold Beckett developed new methods for the study of drugs in the small concentrations present in body fluids during his 27 years as head of the School of Pharmacy at Chelsea College of Science and Technology (later merged with King's College London). By the time drug abuse in sport became a recognised problem – following the death of a cyclist due to amphetamine use during the 1967 Tour de France –  Beckett and his team had developed the analytical tools needed to test athletes.

Beckett worked with Professor Raymond Brooks at St Thomas' Hospital, who established a test for anabolic steroids which was later adopted across the world. In 1978, Beckett's laboratory became the first one established independently of a city staging the Olympic Games to test for drugs in sport. Its successor, King's College London's Drug Control Centre, will operate a World Anti-Doping Agency accredited satellite laboratory during the London 2012 Olympic and Paralympic Games.

Professor Beckett was made a member of the Olympic Order in 1980 for his contributions to the regulation of drug use in international sports and was appointed OBE in 1983.