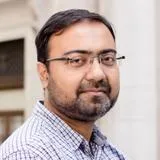 Asif Kalam
Tutor in Business Management and Economics
Contact details
Biography
Asif has a social science educational background, with a First Class Bachelor of Social Science (BSS Honours) Degree in Economics from the University of Dhaka. He was awarded the Westminster Business School Scholarship for MSc study at University of Westminster and subsequently obtained a Distinction at the Masters level in International Business Economics. Asif has obtained a Graduate certificate in teaching and supporting learning in higher education at Birkbeck College, University of London and is an Associate fellow of the Higher education Academy.
Asif is an Associate lecturer at Birkbeck College (University of London) and an online Tutor at the University of Essex. Asif has taught the modules "Macroeconomics for Business" and "Microeconomics for Business" at Birkbeck since 2013. He is also currently teaching the module "Global Business Environment" for the University of Essex online program.
Asif is currently engaged in PhD research at Birkbeck where he has received a scholarship to study at the School of Business, Economics and Informatics. Asif's research at Birkbeck centers on the viable adaptability of the Grameen model of microfinance in the context of developed countries.