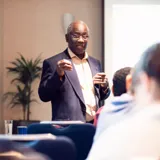 Professor Baba Inusa
Contact details
Biography
Professor Baba Inusa is a Consultant Paediatrician in the School of Life Course & Population Sciences at King's College London.
Graduated MBBS, ABU Zaria, Nigeria 1984 Chair, National Haemoglobinopathy Panel
Founder, Academy for sickle cell and thalassaemia (ASCAT)
Founder of the sickle cell cohort research foundation, Nigeria (SCORE) 
Co-Chair Treatment Subcommittee of Consortium on Newborn Screening Africa (CONSA) and ASH Visitors training programme supervisor. Consortium on Newborn Screening in Africa - Hematology.org
Principal Investigator, African Research and Innovative Initiative for sickle cell education: improving research for service (ARISE) EU, Africa, Lebanon and UIC at Chicago.
His research interest includes Newborn screening, stroke and renal impairment in sickle cell disease, with special interest in global haematology He has published over 130 peer review papers and edited a book and book chapters as well as a reviewer and editorial board member of high impact journals. He supervises Masters and PhD students at King's.
Find out more about him on the ScoreCharity conference website. 
Teaching
Professor Baba Inusa is a course leader in the following:
Professor Baba Inusa is a course teacher in the following:
Haemoglobinopathy - sickle cell disease and thalassaemia
Newborn Screening
Stroke Screening Iron overload
Haematology