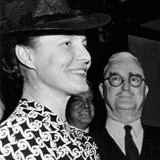 Baroness Edith Summerskill
Politician and doctor
Biography
Baroness Edith Summerskill (1901-1980) was a doctor and politician who became a leading figure in Clement Attlee's post-war government.
Edith studied medicine at King's before qualifying as a doctor at Charing Cross Hospital Medical School in 1924, one of the first women to do so. She married a fellow doctor, Jeffrey Samuel, the following year, but unusually for the time did not take his name. Their children also went by their mother's surname.
Edith ran unsuccessfully as a Labour party candidate twice before being elected to parliament for Fulham West in 1938. A passionate and outspoken feminist, in her first speech to the House of Commons Edith said:
'There is a saying that women are no good at figures, that they have no head for figures; but I am reminded that throughout this country in thousands of homes the Chancellor of the Exchequer is a woman.'
As a medical doctor, her interests in health persisted in politics. In the 1930s she helped form a group called the Socialist Medical Association, which campaigned within the Labour Party for the establishment of a National Health Service.
Edith served as Parliamentary Secretary to the Ministry of Food (1945–50) and as Minister of National Insurance (1950–51). She was also a member of the Labour Party's National Executive Committee and served as Chair of the Labour Party (1954-55).
Edith left the House of Commons in 1961 and was made a life peer as Baroness Summerskill, of Kenwood, London. She was initiated into the Order of the Companions of Honour (CH) in 1966.
Did you know? In 1957, Edith published a series of letters she wrote to her daughter discussing feminist issues. Shirley Summerskill was studying medicine at Oxford at the time the letters were written and would later go on to follow in her mother's footsteps becoming a Labour MP.