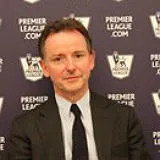 Bill Bush
Cultural Fellow
Biography
Bill Bush is a Cultural Fellow within King's College London.  
Bill is currently Executive Director of the  Premier League. Bill has extensive experience in policy, communications, media, culture and sport. He worked as Senior Advisor to the Prime Minister (1999-2001) and to the Department for Culture, Media and Sport (2001-2005) and was Head of Research for BBC News until 1999.
In 2005 Bill joined the Premier League as Director of Policy. In his current role, as Executive Director, Bill's responsibilities include intellectual property, public policy, relations with government and EU, relations with fans and consumers, communications and the Premier League's community programme.