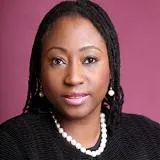 Bisi Adeleye-Fayemi
Visiting Senior Research Fellow
Biography
Bisi Adeleye-Fayemi was appointed as Visiting Senior Research Fellow at the African Leadership Centre in 2017. She is a leading practitioner on the Centre's Practice of Leadership programme.
Bis is a feminist thinker and activist, writer, social entrepreneur, policy advocate and social sector expert. She is currently Principal Partner at Amandla Consulting, specialising in leadership development for women, and runs an online community called Abovewhispers.com, in addition to her role as a UN Women Nigeria Senior Consultant.
She served as the Director of Akina Mama wa Afrika (AMwA), an international development organisation for African women based in London from 1991-2001, where she established the African Women's Leadership Institute that has trained over 6,000 African women leaders.
She co-founded the African Women's Development Fund, (AWDF) – the first Africa-wide grant-making foundation for women and served as the first Executive Director from 2001-2010.
She has designed and implemented policy, advocacy, grassroots empowerment, and social inclusion programmes across many African countries. She has also led campaigns to successfully pass legislation to promote and protect women's rights.
Bis is the author of 'Speaking for Myself: Perspectives on Social, Political and Feminist Activism in Africa' (2013), 'Speaking above a Whisper' (2013) and 'Loud Whispers' (2017). She also co-edited 'Voice, Power and Soul', with Jessica Horn (2008) – a compilation of images and stories of African Feminists.