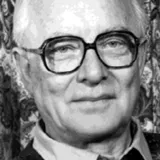 Brian Boycott FRS
Professor of Anatomy
Biography
Born in 1924, he began his career in 1942 as an Animal House Technician at the National Institute of Medical Research in Mill Hill (NIMR), while studying zoology at Birkbeck in the evenings.
He was an assistant lecturer in Zoology in UCL in 1946-7, before moving to Anatomy where he collaborated with J.Z. Young on memory in cephalopods. He worked in the Napoli Zoological Station for some years before returning to UCL as Lecturer (1952), Reader (1962), and Professor (1968). While on sabbatical in Harvard in 1964, he collaborated with John Dowling to produce one of the highlights of twentieth century neuroscience, the wiring diagram of the primate retina.
He moved to King's College London in 1972, where he studied neurofilaments and the relationship of a neuron's structure to its information processing function. He succeeded Wilkins as Director of the MRC Cell Biophysics Unit in 1981.
With an impressive laugh, he was an enthusiastic supporter of the Biophysics Christmas pantomime. Upon retirement, he became Professor Emeritus of Anatomy at Guy's, thus preceding the move of the Randall by a decade, where he continued to work on neural circuits in brain and retina. He died in 2000.