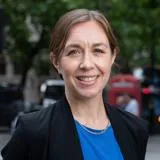 Dr Caitlin Patrick
Faculty Research Manager, King's Business School
Faculty Research Manager, Dickson Poon School of Law
Contact details
Biography
Caitlin Patrick is the Faculty Research Manager at King's Business School and The Dickson Poon School of Law at King's College London. She manages the Research teams in both faculties, which are responsible for pre- and post- award external and internal research funding, research impact, doctoral programmes, REF, research centre development, research and impact-related training and seminar series, and research performance measuring and management.
Caitlin provides high level support to the Vice Deans, Research in both faculties, facilitating effective strategic planning and execution through the development and management of a wide range of activities, management of complex internal and external processes, and the development and implementation of associated policies.
Caitlin holds a PhD from Durham University in Human Geography (awarded 2008) and completed a 3-year postdoctoral fellowship at University College Dublin (2008-2011). She has close to 10 years of experience in HEI administration based at King's, focused on doctoral training and funding and research development.