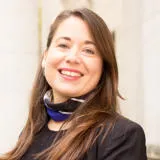 Candela Delgado Marin
EAP Tutor
Contact details
Biography
Candela Delgado Marín is a Doctor in American Literature, specializing in writers of the American South and alternative modes of communication in literature and art. She finished her PhD project as a fellow of the Eccles Center for American Studies at the British Library, after studying for a year in Upstate New York at Cornell University.
Before joining King's Foundations, Candela taught EAP at the international school Abbey College in Cambridge. She has previously taught EAP in the University of Surrey Pre-Sessional courses. Before moving to the UK, she was a lecturer at the University of Seville, teaching undergraduate and postgraduate courses on American literature, bilingualism and language teaching pedagogy. In London, she has also delivered workshops on communicative strategies for international corporations, focusing on storytelling as a branding strategy.
Candela has published articles and book chapters on topics ranging from bilingual identities in literature, the north/south American cultural divide, and female visual artists and the representation of female bodies. She has also co-edited a volume on American cultural diversity published by the University of Valencia.
Her current research interests are narratives of border identities in America, multilingualism and learning strategies and digital natives' reading skills in foreign languages. She is also very interested in Digital Humanities and the impact of Big Data on research and evaluative skills in education.
Outside of work, Candela loves reading, browsing bookshop shelves and exploring good libraries. She enjoys Yoga, long walks and visiting her native Spain.