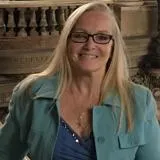 Caroline Collins
Visiting Lecturer
Contact details
Biography
Caroline came to study law later in life after a long career in the Magistrates' Courts Service. She read for her degree part time in the evenings whilst still employed by the Courts Service. On completion of her degree she completed a PGCE (FE) (Law). Deciding a career as a lecturer was her goal, she began her teaching career whilst doing her PGCE. Since then Caroline has taught at a variety of educational institutions, though predominantly at universities, including King's College London; Birkbeck, University of London; Pearson College London; BPP University and the Law Training Centre. She has taught law to foundation, undergraduate and graduate students and specialises in teaching distance learning students using online teaching platforms.
Caroline also has a keen interest in mooting, having organised mooting societies and competitions. She has supported students taking part in competitive moots both in the UK and overseas. Caroline has published academic work with a colleague and continues to actively write with the aim to publish in the future.
Research interests
Caroline is interested in the law on fraud. In particular, online fraud and with reference to the additional problems presented by it in the digital age. She was invited to present at a conference at Worcester University and, as a result, was invited to write a chapter for an edited collection on financial crime with a colleague, the published details of which are below.
Caroline also has an interest in the connection between policing and funding - how one affects the other. She seeks to explore current governmental trends and attempts to fix problems with modern day policing. She is currently researching around this topic with a colleague.
Other areas of interest include: 
Education in law and how to assist students to learn and retain complex information and understanding of the criminal law
How COVID-19 has impacted teaching and learning for students and lecturers from both a positive and negative outlook
The problems that arise in cases of Corporate Manslaughter
Teaching
Criminal Law 
Selected publications 
Chapter 5: Fraud in the twenty first century: is the criminal law fit for purpose? by Caroline Collins and Noel McGuirk in Financial Crime and Corporate Misconduct: A Critical Evaluation of Fraud Legislation, 1st Edition, edited by Chris Monaghan, Nicola Monaghan, Routledge.