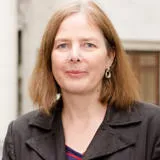 Catherine Barnett
EAP Tutor
Contact details
Biography
Cathy has recently completed a MA in Applied Linguistics & English Language Teaching at King's College London. She also hold an MA in Latin American Studies and a diploma in Teaching English for Specific Purposes from the British Council.
She has taught EAP for many years, both in the UK and abroad. Cathy worked at a university in Mexico for ten years and since returning to the UK has taught on Foundation, Pre-master's, Pre-sessional and In-sessional courses at various London universities, principally the University of Westminster and Queen Mary, University of London. Additionally she has experience teaching ESOL, EFL and IELTS.
Cathy is interested in researching the use of technical and semi-technical vocabulary in different disciplines and genres, especially the use of collocations.