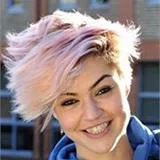 Dr Christine Barnes
Senior Lecturer in Cultural Geography
Contact details
Biography
Dr Christine Barnes joined the Department of Geography in 2015. She graduated from King's with a first class honours BSc in Geography in 2009. She then completed an MSc in Environment, Politics and Globalisation in 2010 where her research focused on food politics and healthy eating campaigning in the UK. 
Christine's completed her PhD at King's in 2015. Her thesis considered the mediated forms of power celebrity and the media may have to operate as tools of governance within spaces of food and charitable care.
Research
Food geographies
Digital foodscapes
Geographies of consumption
Precarious and gendered labour
Christine's research interests are broadly in cultural geography, food politics and gendered labour. Her work explores the cultural politics of digital foodscapes, and the gendered and precarious forms of labour involved.
Further details
Research The Centre for Digital Culture at King's College London is an interdisciplinary research centre promoting research and debate on digital culture
Research The Centre for Digital Culture at King's College London is an interdisciplinary research centre promoting research and debate on digital culture