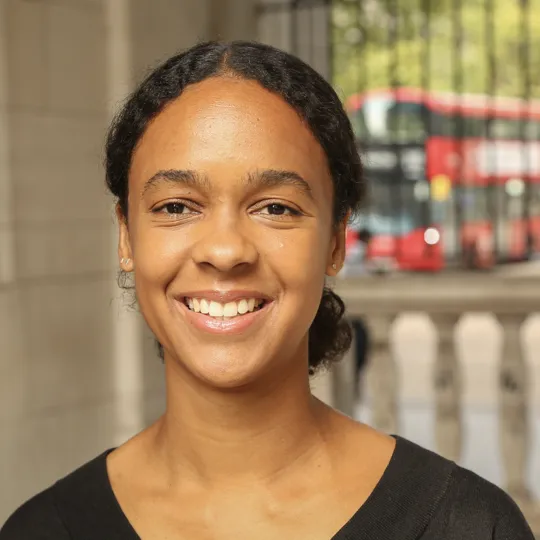 Christine Okoth
Lecturer in Literatures and Cultures of the Black Atlantic
Contact details
Biography
I was previously Research Fellow on Mike Niblett and Chris Campbell's Leverhulme Project World Literature and Commodity Frontiers at the University of Warwick. I hold both a BA and PhD from King's and an MSt from the University of Oxford. 
Research interests and PhD supervision
Global Black Literatures and Cultures
Environment and Environmental Justice
Race and Representation
Critical University Studies
My work is primarily concerned with questions of environment and race in contemporary Black literature and visual art. I'm currently working on a book project entitled Race and the Raw Material, which shows how contemporary Black writers and artists use the materials of literature – particularly those relating to genre - to excavate a set of racial logics that emerge against the backdrop of raw materials extraction. I do so as a way to emphasise the political capacities of aesthetic forms and to highlight peripheral, contingent, and relational histories of what we call 'race.'
I'm generally curious about the political economy of race on a global scale and the relationship between representational modes and claims to political autonomy. A second research project considers how contemporary literature and art from the Caribbean, East Africa, and North America looks back onto histories of resource nationalism, de-linking, and other attempts at refusing the integrating gestures of global trade. I also have an ongoing interest in the disciplinary history of Black studies and the conditions that regulate the integration of minoritized knowledge into educational institutions.
I'd be interested to hear from potential doctoral students in any field relating to global Black literatures and cultures, environmental humanities, or contemporary literature and race. 
Selected publications
Teaching
I teach a wide range of modules on literary theory, Black literary history, and environment and race and contribute to core teaching on the MA in Contemporary Literature, Culture, and Theory.
Expertise and public engagement
I have produced materials for the Middlesborough Institute of Art (MIMA) exhibit of Otobong Nkanga's work and have written for The White Review about the limits of liberal sustainability and about the potential for anti-extractivist solidarity as part of the 'After Extractivism' project of the Berliner Gazette.