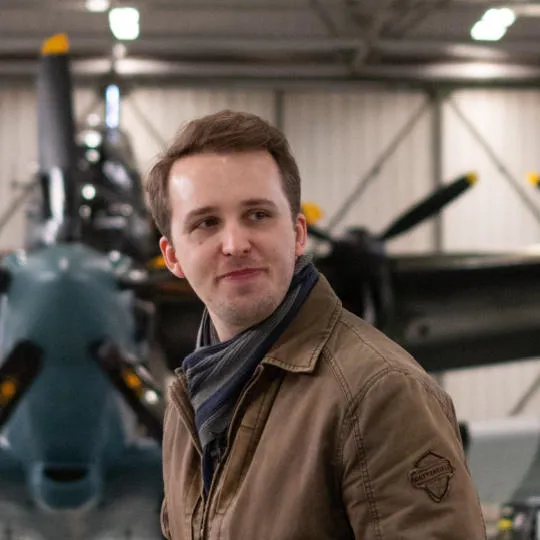 Christoph Bergs
PhD Candidate and Graduate Teaching Assistant
Biography
Christoph Bergs works on the interconnectedness of air doctrine and air force capabilities. He also researches the influence of defence related social media communication on societal resilience and understanding of the military.
He is a part-time PhD Student at the Department for European and International Studies and a member of the Clausewitz Network for Security Studies situated at the Bundeswehr Command and Staff Academy in Hamburg, Germany.
In 2018, he founded his YouTube channel Military Aviation History. Military Aviation History publishes educational videos on military aircrafts, air operations and current events. Christoph has worked with the Royal Air Force, the United States Naval Institute Press, Saab, the Militärhistorisches Museum der Bundeswehr (Berlin-Gatow) and many other prestigious organizations and institutions. His growing audience counts more than 360,00 subscribers with 67 million views (end of 2022).
Christoph hosts the joint Military Aviation History - Freeman Air and Space Institute podcast where he discusses specific issues and events with FASI experts and contributors.
His thesis focuses on the formation of leadership circles in European social movements. Christoph obtained a MA in History and International Relations at the University of Dundee, United Kingdom and holds a MA in International Cooperation from Seoul National University, South Korea. He has previously worked for the French government's working group Mission du Centenaire de la Première Guerre Mondiale in Paris, France. Christoph is fluent in English, French and German.
Research Interests
Development of close air support
Air power and doctrine
Societal resilience in the digital age
Social media communication in the military and defence industry
Publications
In English
STUKA – The Doctrine of the German Dive-Bomber, Military History Group, 1. July 2022.
STURMZUG - Tactics of the German Assault Platoon 44, Military History Group, June 2022 (revised ed.) (Co-editor).
PANZER – The Medium Tank Company 1941, Military History Group, Feb. 2023 (revised ed.) (Co-editor).
In German
Die Entwicklung der unmittelbaren Luftunterstützungsstrukturen der Luftwaffe im Zweiten Weltkrieg, Bavarian Army Museum, Dec. 2022.
The Development of Close Air Support Structures in the Luftwaffe (Original title in German), 10. September 2022, Bavarian Army Museum, Ingolstadt, Germany.
Christoph co-organized the Panzerkonferenz 2022, a crowdfunded public conference on World War 2 attended by notable German military historians. There he presented on the development of Luftwaffe close air support.
Doctoral Research
Research
Freeman Air & Space provides independent, original knowledge and analysis of air and space power issues.
Research
Freeman Air & Space provides independent, original knowledge and analysis of air and space power issues.