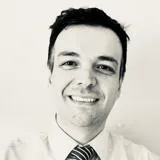 Dr Christos Tziotzios
Consultant Dermatologist & Senior Lecturer
Contact details
Biography
Dr Christos Tziotzios is a Consultant Dermatologist at St John's Institute of Dermatology, Guy's and St Thomas' NHS Foundation Trust and adjunct Senior Lecturer at King's College London.
He graduated from the University of Cambridge and completed integrated academic training (NIHR Academic Clinical Fellowship) in Dermatology at St John's Institute of Dermatology. During his NIHR-funded Doctorate, he undertook genetic studies which provided novel mechanistic insight into an immune-mediated and scarring form of alopecia affecting almost exclusively women. The work was published in Nature Communications and led to the identification of novel pathways with potential for therapeutic intervention. He currently holds a British Skin Foundation (BSF) Young Investigator Award for ongoing work in frontal fibrosing alopecia and follicular biology.
He is national Chief Investigator for the ALLEGRO trials in alopecia areata; Chief Investigator of the Alopecia & Me study (alopeciame.org); he co-leads a national research network into the genetics of polysensitisation; and is Chief Investigator of the FFA-TREAT study, which looks to evaluate routine clinical care in frontal fibrosing alopecia. He is also Service Lead for the St. John's Hair & Nail Clinic.
Dr Tziotzios teaches undergraduate and MSc students at King's College London and co-supervises two PhD candidates and an MSc student.