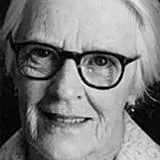 Cicely Williams (1893 – 1992)
Biography
Nutritionist and paediatrician


The pioneering nutritionist and paediatrician Cicely Williams undertook clinical training at King's College Hospital during the First World War. She was the first Head of Mother and Child Health at the World Health Organisation (1948 -51) and was the first woman to be elected to an honorary fellowship of the Royal College of Medicine (in 1977).

Williams was particularly active in research and debate on the causes and treatment of protein nutrition. In 1929 she identified 'kwashiorkor', a protein deficiency disease affecting young children on the Gold Coast (now Ghana). She was later transferred to Malaya, where she criticised companies which aggressively promoted infant foods in developing countries and led mothers to abandon breastfeeding.

During the Second World War, Williams was interned in Changi prison in Singapore for three and a half years. She was able to use her nutritional knowledge to care for her fellow prisoners, keeping the death rate lower than in other camps. She remained active in research and teaching on nutrition to the end of her life, and was equally important as a pioneer of maternal and child care in developing countries, with a vision of local resources as key to improving the health of the poor.