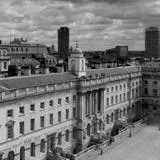 Professor Cindy Skach
Emeritus Professor
Biography
Cindy Skach is Emeritus Professor at King's. She was previously Professor of Comparative  Government and Law at the University of Oxford, and a member of the faculty at Harvard University, where she was also a member of the Steering Committee of Harvard's Center for Middle Eastern Studies, and its Center for European Studies. Her work has been published in Arabic, French, Czech, English, German, Hungarian, Italian, Polish, Portuguese, and Spanish. 

She has served as an adviser to foreign governments, and international organisations, including the United Nations Assistance Mission in Iraq (U.N.A.M.I.), and the Club of Madrid General Assembly.She is also an international expert for iPlatform at the Institution Quraysh (London,  Doha, Jeddah); and a Research Associate of the Institute of Social and Cultural Anthropology, Oxford.
Cindy received her graduate education from Columbia University, the University of Heidelberg, where she was a Fulbright Fellow, the Santa Fe Institute, and the University of Oxford.
Research 
Professor Skach's work investigates the symbolic power of law, understood through an analysis of recent legal restrictions governing the human body; the 'constitution' of citizens through education; and comparative perspectives on substantive due process. 
See Professor Skach's Research Portal profile for further information.