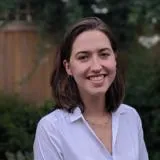 Claire Burchett
PhD Candidate
Contact details
Biography
Claire joined the Department of European & International Studies as a PhD researcher in October 2021, interested in the different ways in which the populist radical right communicate antisemitism online and how this differs across social media platforms.
She is a recipient of the London Arts & Humanities Partnership (LAHP), funded by the Arts & Humanities Research Council (AHRC), and is currently a LAHP student ambassador. She holds a BA in German and Russian from the University of Cambridge (2014-2018) and an MA in European Studies from KCL (2018-2019). Claire previously worked as a country risk analyst and investigative due diligence analyst, focusing on Russia and the Caucasus, in the private sector. 
Research interests 
Populist radical right parties
Memory politics
Antisemitism
Social media narratives and affordances
Office hours
Wednesday: 14.00-16.00
Teaching
4AAOB103 Introduction to Politics
PhD research
Increasingly since the new millennium, political parties of the populist radical right (PRR) have tried to present themselves as more moderate, progressive, and, as they hope, more "electable." As part of this, the PRR consistently claim to not be antisemitic, and make apparently conciliatory gestures, such as voicing support for Israel, or noting Holocaust Memorial Day.
However, my research examines how antisemitism continues to be present on the official and affiliate social media accounts of three of these parties: the Rassemblement National (RN) in France, the Alternative für Deutschland (AfD) in Germany, and the Freiheitliche Partei Österreichs (FPÖ) in Austria.
I aim to analyse the different, overt and implicit, ways in which the parties communicate antisemitism, including how surface-level sympathy for Jewish communities is used as a political weapon; how the reactions and comments of other social media users can result in antisemitic amplification, and the role of victimhood narratives within this; and how different social media platforms differ in their enablement of antisemitic discourse due to their regulatory and technological idiosyncrasies. 
PhD supervisors
Dr Katrin Schreiter and Dr Isabelle Hertner
Latest publications
I blog semi-regularly about European (far-right) politics and antisemitism: https://therightresearch.substack.com/
Burchett, C. (2022, December 8). What is the Reichsbürger movement accused of trying to overthrow the German government? The Conversation. https://theconversation.com/what-is-the-reichsburger-movement-accused-of-trying-to-overthrow-the-german-government-196233
Burchett, C., & Barth, J. (2022, April 14). How the European Far Right is using Russia's Invasion of Ukraine to Radicalise its Audience. GNET. https://gnet-research.org/2022/04/14/how-the-european-far-right-is-using-russias-invasion-of-ukraine-to-radicalise-its-audience/