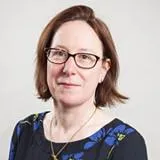 Clare Sumner
Independent member of the College Council
Biography
Clare Sumner was appointed an independent member of the College Council in July 2019. She is Chair of the Governance and Nominations Committee and is also a member of the Fellowships and Honorary Degrees Committee and the Chairs' Committee.
Clare joined the BBC in January 2014 as the Chief of Staff to the BBC Director General during the Charter Review. She is now the BBC's Director of Policy leading the development of UK and EU public policy in areas of strategic importance to the BBC, as well as leading the BBC's government relations at UK and EU levels. Clare is also responsible for the BBC's regulatory strategy and the relationship with the BBC's regulator, Ofcom.
Prior to this, Clare worked for the Civil Service in a variety of roles including leading the Civil Service Reform Programme, managing the Criminal Courts and working in the heart of Government both in the Cabinet Office and as Private Secretary to the Prime Minister leading on the legislative programme and Prime Minister's Questions.
Over her career Clare has advised on a wide range of Government policy and has specialised in constitutional, media and criminal justice policy. Clare is a working mum and in any spare time enjoys yoga and art history. Clare has also held board level positions as a NED/trustee in the charity sector, education and the NHS.