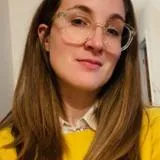 Dr Claudine Bisson
Cryo-Electron Microscopy Applications Specialist
Contact details
Pronouns
she/her
Biography
Claudine joined the CUI team in March 2020 to help develop single particle cryoEM and cryo-tomography at KCL.
She has a background in structural biology, obtaining her PhD from The University Sheffield in 2012, she has used a range of biochemical and structural biology techniques throughout her career, including X-ray crystallography and cryoEM, to study biologically important systems in plants and bacteria.
Most recently, she has been researching Malarial egress with Helen Saibil and Birkbeck College, where she was able to advance her skills in cryoEM, FIB-milling and sub-tomogram averaging to understand the role of a key protein complex from the surface of malarial parasites.
Claudine's publications: https://orcid.org/0000-0002-9430-6822