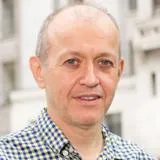 Clive Shaw
EAP Tutor
Contact details
Biography
Clive holds a M.Ed in English Language Teaching from Manchester University, an RSA Diploma in Teaching English as a Foreign Language and a Certificate in Further Education.
He has been teaching English since 1992. During this time Clive has taught in Brazil, Poland and Russia. Before starting at Kings, he worked at Brunel University, teaching on a variety of courses including Pre-sessional and In-sessional as well as ESP engineering programmes. He has experience in language testing and assessment having worked as UCLES Team Leader for Russia.
His professional interests include student interaction and developing learner autonomy. Recently, Clive has been conducting classroom research into using smart devices to facilitate strategy development in listening.