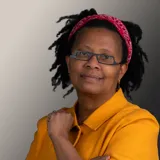 Corinne Pyree-Marx
Biography
Corinne Pyree-Marx (Law, 1989) is a business consultant based in Ècully, France. Corinne has mentored a number of King's students through the King's Business School Diversity Mentoring Programme. 
 What are your happiest memories of your time at King's?
My happiest memories at King's are those times spent with new friends at the cafeteria or restaurants in the evenings. No-one in my family had studied abroad, so I felt lucky.
 How has the ability to understand and interact effectively with people from other cultures/backgrounds been important in your life and career?
Being able to interact effectively with people from other cultures shaped my views of what was possible in the world. We all came in with different backgrounds, we all sat on the same benches, we were able to discuss our cultures, explain them and value them. We could also see the viewpoint of someone else. And because we were among friends, we could understand that nothing was black and white. As a result, I now tend to see what we have in common rather than what divides us.
How have you stayed connected to King's since graduating, and why is being part of your alumni network important to you?
I stayed connected through the magazine and the newsletters. It is great to read inspirational stories about other alumni. I am proud of the degree I received from King's; I know it has value.
 What advice would you give to students and alumni for success in life after King's?
I would suggest alumni stay in touch with the friends they made during their time at King's. We've grown up together. We shared our hopes, dreams and fears for our future - so they will always have our backs.
To stay in touch with your alumni community, make sure to sign up for King's Connect. It provides the most effective way for you to connect with King's alumni, as well as presenting opportunities to boost your career through mentoring. Sign up today at kingsconnect.org.uk