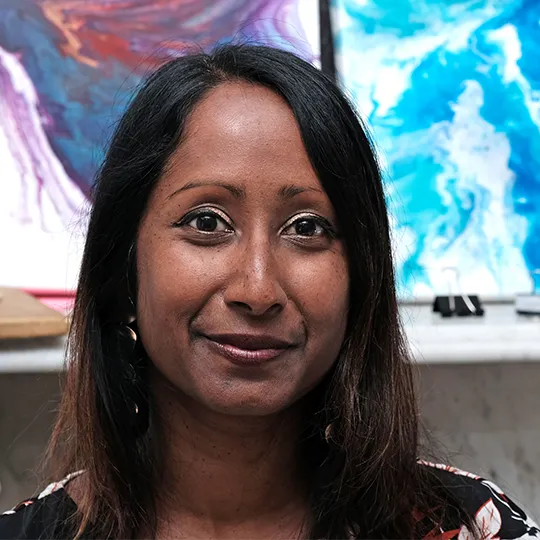 Dr Curie Scott
Biography
Dr Curie Scott (MBBS, 1999) worked at Guy's and St Thomas' NHS Foundation Trust  after graduating, before going on to become a senior lecturer at Canterbury Christ Church University and Bournemouth University. In 2018, Dr Curie gained a PhD from the University of Brighton after completing her dissertation on 'elucidating perceptions of ageing through participatory drawing'. Dr Curie's book, 'Drawing- Arts for Health' was released in October 2021. She currently works as an independent consultant and coach.
What are your happiest memories of your time at King's?
I met some wonderful people who remain close friends to this day.
How have you stayed connected to King's since graduating?
King's is well known for its innovative practices in health, so I have valued various publications, presentations and events they have produced, such as those from the Centre for the Humanities and Health.
What success stories have you had in your career?
I hold the unusual status of being a 'Dr Dr' as I am medically qualified and have a PhD. Since qualifying from Kings, I've worked as a medical doctor, taught university students for 18 years, gained further qualifications, and become a coach and an artist. I've taught students training to be various types of health professionals, and then led a master's in Education, well known for being the teaching qualification for new lecturers. I gained a university teaching award for my creative teaching approaches. I am a senior fellow of the Higher Education Academy. I have presented nationally and internationally at health and education conferences. I won a prestigious travel award allowing me to live in Brazil for a month learning about how health professionals are trained there, visiting seven different cities. I completed a master's in Educational Innovation and then won a scholarship for a PhD on drawing for learning. I have written book chapters and articles. I was commissioned by Emerald Publishing to write on Drawing for Health and well-being as part of the Arts for Health book series. My book promotes drawing as a practical method for thinking, and lifts drawing beyond being 'art'. I run drawing workshops for research, education and well-being. I work particularly with adults who are not artistic or creative and who usually say they 'cannot draw'. I am on the International Advisory Board for Health Humanities. I was part of a team which gathered to discuss how origami (paper folding) is used within Science, Maths and Education. I am now a trained Embodiment coach and am a speaker and facilitator on drawing for thinking. I also work with individuals and teams on values-based working, resilience, stress management, emotional regulation, change management and conflict management.
How has the ability to understand and interact effectively with people from other cultures and/or backgrounds been important in your life or career?
As a medical doctor in London, I had the opportunity to meet and learn how people from different cultures regard health and illness. My time in Brazil was a culture shock - as most people did not speak English I decided to learn Portuguese in order to communicate. Having an attitude of openness and interest in Brazil was crucial as there were many differences. My specialist area of drawing also opens up ways to communicate across cultures when there isn't a shared language.
What advice would you give to students and alumni for success in life after King's?
Know that there is always someone who can help. Stay humble.
King's Connect is a networking platform that allows both students and alumni to connect to the wider King's community and expand their professional network by building long-lasting relationships. Sign up today at kingsconnect.org.uk