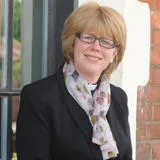 Sarah Mullally
133rd Bishop of London
Biography
The Right Reverend Dame Sarah Mullally DBE is a member of the King's College Council and a King's alumna. She was elected as the 133rd Bishop of London in January 2018.
Before becoming a priest, Sarah had a career in nursing. From 1980 to 1984 she read Nursing Studies at Southwark Polytechnic and the Nightingale School of Nursing (now the Florence Nightingale Faculty of Nursing, Midwifery & Palliative Care) and she also held a clinical nursing post at St Thomas' Hospital early in her career. Sarah rose to become the UK's Chief Nursing Officer from 1999 to 2004 and was made a Dame Commander of the British Empire in 2005 for her contribution to nursing and midwifery.
Sarah was ordained a priest in 2002 and decided to pursue the ministry full-time in 2004. She became Bishop of Crediton in 2015, one of the first female bishops to be ordained. As the Bishop of London she now holds the third most senior position in the Church of England.
Did you know?  Sarah is a keen amateur potter, having taken it up as a shared hobby with her daughter.