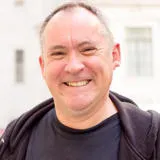 David Brining
EAP Tutor
Contact details
Biography
David holds a PhD in Education from the University of York, and an MA in Teaching English to Young Learners from the same university. His thesis explored the challenges faced by teachers of English to Young Learners outside the UK and the training and professional development they received. David also has a BA in English and American Literature from the University of Warwick, and the Cambridge CELTA, DELTA and CELTYL.
David has worked in education for over 30 years, as a teacher, administrator, manager and department head in a variety of schools, language schools, including British Council, colleges and universities (Leeds, Sheffield and Warwick). He has worked with students ranging in age from 5 to 90, in countries as diverse as Russia, Sweden, Sri Lanka, Thailand, Jordan, Syria, Egypt and the UK. He has been an IELTS, Edexcel and Cambridge examiner and has acted as a consultant teacher trainer for Cambridge Assessment. Before joining King's, he was Subject Leader EAP and Learning Support/Special Needs Co-ordinator at Kaplan International College London, where he also co-ordinated the Pre-doctorate Programme.
David's current research interests are teacher motivation and supporting EFL/ESL/EAP students with Specific Learning Difficulties such as dyslexia and ADHD.
Outside education, David enjoys singing with Eltham Choral Society and other choirs. He is a keen tennis player and an avid though sometimes frustrated follower of English cricket. He is a committee member of Lee Forum, a community group in SE London working to deliver the Lee Neighbourhood Development Plan. His main interests here are traffic management, green landscaping, particularly linking the Hither Green Nature Trail and Quaggy River Trail to the Green Chain Walk, and the history and heritage of Lee and Hither Green.
David has written and published six novels.