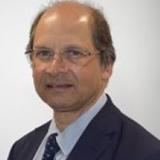 Professor David D'Cruz PhD
Consultant Rheumatologist at Guy's Hospital
Pronouns
him
Biography
Professor D'Cruz is a member of this internationally renowned tertiary referral centre for autoimmune rheumatic disorders. His major clinical and research interests are systemic lupus erythematosus, the antiphospholipid syndrome and systemic vasculitis. He leads the Louise Coote Lupus Clinical Trials Unit which has a portfolio of investigator and industry led trials. His research portfolio includes a translational medicine programme in collaboration with basic science laboratories in the Division of Immunology, Inflammation and Infectious Diseases, Kings College School of Medicine. He has published widely and he is one of the Managing Editors of the journal Lupus. He is a past President of the Rheumatology Section of the Royal Society of Medicine.
Disclosure statement
Professor D'Cruz has contributed to advisory boards and has been on speaker's panels for: GlaxoSmithKline, Eli Lilly, Vifor and UCB.