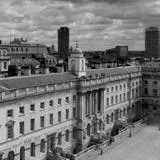 Professor David Llewelyn
Professor of Law
Contact details
Biography
David Llewelyn is Professor of Intellectual Property Law. He is a practising lawyer, academic and arbitrator, living in Singapore since 2010. David sits as an arbitrator in international commercial disputes and is also an IP Adjudicator at the Intellectual Property Office of Singapore.

He is the author of leading texts on UK and EU trade marks and intellectual property law, Cases, Materials and Commentary on Singapore Intellectual Property Law (2018) and business book Invisible Gold in Asia: Creating Wealth through Intellectual Property (2010).

David has been appointed by the Singapore Court of Appeal as amicus curiae in cases involving trade marks, copyright and patents.
Research interests
Intellectual property law; particularly international and comparative aspects and issues arising from the use in practice of IP rights and their enforcement; Trade mark law and its development in Europe, together with other methods of protection for trade indicia, including the law of passing off. Commercialisation of intellectual property rights.
Find out more about Professor Llewelyn's research on our research portal.
Teaching
Graduate
 Commercialisation of Intellectual Property
 International & Comparative Law of Trademarks, Designs & Unfair Competition