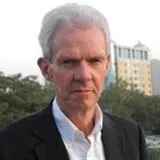 David Loyn
Senior Visiting Research Fellow
Research interests
History
Conflict and security
Arts, culture and media
Biography
David Loyn is an author, journalist and analyst who specialises in Afghanistan, South Asia and imperial history. He is on an advisory panel to the FCDO on South Asia policy, and co-convenor (with Walter Ladwig) of a mid-career course for diplomats run by King's for the FCDO International Academy on South Asia and Afghanistan. He writes regularly on Afghanistan for the Spectator.
As a BBC correspondent for more than three decades, David won awards in both Radio and Television reporting, including Journalist of the Year from the Royal Television Society for his reporting of the Kosovo conflict in 1998. His book Frontline was shortlisted for the Orwell Prize. His last posting was as correspondent in Afghanistan, a country he has been visiting since 1994, including several trips during Taliban control. He was also BBC South Asia correspondent based in Delhi, and later the International Development correspondent.
From 2017-2018 David worked as Strategic Communications adviser in the office of Afghan President Ashraf Ghani. He holds an MA in Modern History from Oxford University, and is a qualified barrister. He joined the War Studies Department at King's in September 2016.
David is a board member of Peace Direct, and an Associate of the Imperial War Museum.
Areas of expertise
Afghanistan and South Asia
Strategic communications
History of war reporting
International development
Intervention doctrine
Imperial history
Publications
Books
The Long War—the Inside Story of America in Afghanistan since 9/11; (2021)
Butcher and Bolt – Two Hundred Years of Foreign Engagement in Afghanistan (2008); US edition In Afghanistan (2009)
Frontline – Reporting from the World's Deadliest Places (2005; updated paperback 2011); Shortlisted for the Orwell Prize.
Selected media
Frequent Spectator pieces: https://www.spectator.co.uk/writer/david-loyn/
The World Today, Chatham House, on the second anniversary of the Taliban takeover August 2023: https://t.co/ghevihfi6j
"Western Policy is not working in Afghanistan"; Prospect Magazine

(August 2023)

"Media" in Jean Seaton (ed.) collection of responses to the Chilcot Inquiry, Political Quarterly

 (October 2016)

"Afghanistan is not a lost cause" Prospect Magazine 

(February 2015)
Chapters and Papers
"The Last Kings of Afghanistan" (chapter about Afghan reform movements in the twentieth century) in Jules Stewart and Lisa Choegyal (eds.) Afghanistan Revealed (London: Afghan Appeal Fund, 2013)
"The Emergence of the Taliban" in Morten Tinning and Signe Lund (eds.) The Distant War – 17 perspectives on Afghanistan (Copenhagen: Statens Forsvarshistoriske Museum, 2014)
"Afghanistan 1989-2001, the rise of the Taliban" in Desperta Ferro (Madrid: No 14, 2015)  
"The Taliban's One-Eyed Strongman Hides in His Lair" in John Elliott, Bernard Imhasly, Simon Denyer (eds.) Fifty Years of Reporting South Asia (New Delhi: Penguin Viking, 2008)
"Good Journalism or Peace Journalism" in Peace Journalism and its Discontents (conflict & communication online, Vol. 6, No. 2, 2007) www.cco.regener-online.de/2007_2/pdf/loyn.pdf
Other Activities
David Loyn has been adviser to a number of theatre and dance productions. These have included
adviser to Another World – Losing our Children to Islamic State by Gillian Slovo, directed by Nicolas Kent at the National Theatre; 2016
co-devisor with Darshan Singh Bhuller and Lindsey Butcher of Rites of War, a dance production linking World War I and the Iraq war; 2014
adviser to the Great Game

 series of Afghan history plays directed by Nicolas Kent at the Tricycle Theatre; 2009

adviser to Black Watch

, a National Theatre of Scotland play about the experience of the Scottish regiment in Afghanistan; 2008