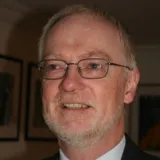 David Morgan
Visiting Senior Lecturer
Contact details
Biography
David Morgan is a Visiting Senior Lecturer the in the Centre for Pharmaceutical Medicine Research, Institute of Pharmaceutical Science, School of Cancer & Pharmaceutical Sciences.
David has degrees in Mathematics and in Applied Statistics from Oxford University. He is a Chartered Statistician and Chartered Mathematician. David spent 30 years in Statistics and Data Management in Drug Development in the Pharmaceutical Industry, finishing his career as Global Head of those functions for French company, Ipsen. He is author and co-author of some 20 publications, including a series of "white papers" on statistical topics in drug regulation produced on behalf of Statisticians in the Pharmaceutical Industry (PSI) and European Federation of Statisticians in the Pharmaceutical Industry (EFSPI). He was Joint Editor-in-Chief of the Wiley Journal Pharmaceutical Statistics from 2016 to 2019.
David now operates as a part-time consultant and as a Visiting Senior Lecturer at King's, where he is co-leader of the Statistics and Data Management module for the MSc programmes in Drug Development Science and Clinical Pharmacology. He is also active in the educational programmes of the International Federation of Pharmaceutical Physicians and Pharmaceutical Medicine (IFAPP) and the Institute of Clinical Research. He has research interests in the use and communication of meta-analysis.