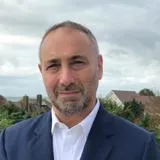 Professor David O'Brart
Professor of Corneal Science
Consultant Ophthalmic Surgeon
Research interests
Biomedical and life sciences
Medicine
Contact details
Biography
David O'Brart is a Professor of Corneal Science in the Section of Ophthalmology, School of Life Course Sciences.
Adjucnt Professor O'Brart has been a Consultant Ophthalmic Surgeon at Guy's and St Thomas' NHS Foundation Trust in London since 1996. In recognition of his clinical research, he was appointed as Professor of Corneal Science at King's and the University of London in 2015 and Honorary Professor at Cardiff University in 2019. Professor O'Brart is past president and treasurer of the United Kingdom and Ireland Society of Cataract and Refractive Surgeons, a past council member and secretary of the British Society of Refractive Surgeons, past president and secretary of the Southern Ophthalmological Society and past board member of the European Society of Cataract and Refractive Surgeons.
He has organised and chaired over sixty symposia on refractive, corneal and cataract surgery and glaucoma at national and international meetings. He has co-authored three books on corneal topography, refractive and corneal surgery and contributed numerous chapters to international ophthalmic textbooks. He is an examiner and specialist advisor to the National Institute for Clinical Excellence and the Medical Health Research Authority for the Royal College of Ophthalmologists.
He continues to take an active interest in research in the fields of refractive surgery, cornea and external eye disease and cataract surgery with over one hundred and fifty scientific publications. His current clinical and laboratory research is directed at optimising treatments for keratoconus and dry eye, and cataract surgery within the NHS.