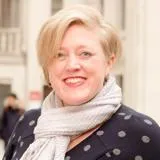 Dawn Barnes
Head of Portfolio Marketing
Contact details
Biography
Dawn has achieved BA Joint Honours degree in English and French, Chartered Institute of Marketing (CIM) Professional Diploma in Marketing and Institute of Leadership & Management.
Dawn is a Marketing and communications professional with over ten years' experience of copywriting, public affairs, public relations, marketing, research, digital media, online marketing, email marketing and more. She has worked in the public, private, charity and local government sectors. Most recent employment includes the Aga Khan University and Diabetes UK.
Dawn's interests and hobbies are: reading and co-ordinating a network of reading groups in London; cooking; theatre; cinema; exploring London; politics; tube geekery; travel; fitness.