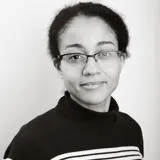 Dr Deborah Agbedjro
Statistician
Contact details
Biography
Deborah is a statistician mainly focusing on prediction modelling, statistical and machine learning in psychiatry. Areas of application include treatment resistant Schizophrenia patients, Cognitive Remediation Therapy (CRT) for Schizophrenia and autism.She joined King's College in 2014 to start her PhD in the Department of Biostatistics, after completing her master's in Medical Statistics in the London School of Hygiene and Tropical Medicine. Her PhD project aimed to develop a precision medicine model to predict CRT success in people with Schizophrenia combining missing data imputation techniques with statistical and machine learning methods. She completed the PhD in 2018, when she started to work as a statistician in the same department. Deborah also nurtures a deep interest in education and teaching.
Research Interests 
Prediction modelling
Statistical learning
Missing data
Teaching 
I teach in the Prediction modelling school held annually by the department of Biostatistics and Health Informatics.