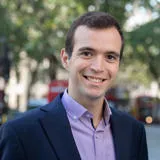 Dr Dimitris Papadimitriou
Lecturer in Finance
Contact details
Biography
Dimitris Papadimitriou is a Lecturer in Finance at King's Business School. He holds a PhD from London School of Economics, an MSc in Financial Economics from the University of Oxford, as well as a BA in Mathematics from the University of Cambridge. Prior to joining King's, he was a Lecturer in Finance at the University of Bristol.
Dimitris' research interests include asset pricing, market microstructure and portfolio management. In his research, he studies how information and agency frictions affect the decision making of investors in financial markets.
Dimitris is also a Fellow of the Higher Education Academy and his work has been published in journals such as the American Economic Review, the Financial Review and the Journal of Financial Research. He has also presented in conferences such as the NBER Asset Pricing Meeting, or the Adam Smith Workshop.
Are you currently accepting new PhD students?
Yes