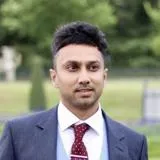 Dr Dipen Patel
Clinical research fellow and MD(Res) student
Contact details
Biography
Dipen Patel is a medical doctor by background and is currently a higher specialist trainee in general adult psychiatry at South London and Maudsley NHS Foundation Trust. He is also currently a clinical research fellow and doctoral level MD(Res) student at the department of Psychosis Studies, at the Institute of Psychiatry, Psychology and Neuroscience, King's College London.
He completed his undergraduate medical training (MBBS) at King's College London School of Medicine. He is a member of the Royal College of Psychiatrists, holds a Bachelor of Science degree in physiology awarded by King's College London and a Postgraduate Diploma in Leadership and Management awarded by Swansea University.
His research interests include physical health in severe mental illness, applied health informatics and digital innovation in healthcare. He is currently working on a project which aims to develop, test and then pilot a novel electronic clinical decision support system for diabetes care in an inpatient secondary mental health setting, evaluating its feasibility, acceptability, and implementation.