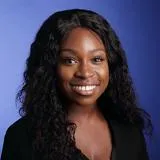 Divina Koffi
BA International Relations
Associate Consultant at BCS Consulting
Biography
I worked as an analyst at KPMG on the operational audits of multinational and global companies. Within my role at KPMG, I worked to assess the reliability and the risk related to key systems which bear an impact on the financial data of audit entities. I am currently working as an Associate Consultant at BCS Consulting where I support financial organisations to build cohesive and sustainable strategies in line with their business objectives. I have worked on a number of projects including for FTSE 100, Retail Banking, FCMG and Sports/Betting companies. 
My degree has equipped me for my roles in the corporate sector in various ways. My degree shaped me to become more pensive and analytical which have been useful for my roles in both audit and consulting. Not only this, but studying IR equipped me with the necessary communication and presentation skills to flourish in these organisations. 
During my time as a student King's, I would often browse the careers website! It was a great platform for finding internships, and resources to improve my CV/Cover letters. In fact, these are the very same internships which led me to the roles which I have undertaken today. In addition to this, I also attended many events on-site, both workshops to support my presentations skills and employability skills. I can honestly say that I have been able to use everything I had learnt at university to get me to where I am today!