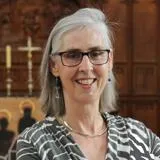 Dr Adrienne Dengerink Chaplin
Visiting Research Fellow
Contact details
Biography
Originally from the Netherlands, Adrienne Dengerink Chaplin studied philosophy, art history and musicology in Amsterdam before moving to live and work in the UK. Between 1999 and 2007 she taught philosophical aesthetics at the graduate school the Institute for Christian Studies in Toronto during which time she was also an adjunct faculty member of the Toronto School of Theology. She served as President of the Canadian Society for Aesthetics from 2005 until 2007 and subsequently as their Canadian delegate on the Executive Committee of the International Association of Aesthetics. Upon her move to the UK she worked as an independent scholar. Various temporary lectureships included a one-year appointment as Teaching Fellow in Religion, Philosophy and the Arts at the Department of Theology and Religious Studies at King's College in London in 2016-2017.
Research interests and PhD supervision
Philosophical aesthetics
Theological aesthetics
Art and meaning
Art and embodied cognition
Socially engaged art and peacebuilding
Dengerink Chaplin works on the interface of philosophy, theology and art. She has a particular interest in the way art articulates non-discursive meaning about the world, the human condition, and the divine. This is a central theme in her upcoming book The Philosophy of Susanne Langer: Embodied Meaning in Logic, Art and Feeling (Bloomsbury). Working across the boundaries of analytic and continental philosophy she has written on Kant, Cassirer, Whitehead, Wittgenstein and Merleau-Ponty.
Teaching
Dengerink Chaplin has taught on a wide range of topics in philosophical and theological aesthetics, including the history of aesthetics, phenomenology and art and the senses.
Expertise and public engagement
Dengerink Chaplin is involved with various faith-based arts organisations and is interested in socially engaged art in the context of peacebuilding and reconciliation. She is the founding director and curator of the travelling exhibition Art, Conflict and Remembering: the murals of the Bogside Artists which aims to increase British understanding of the causes and the legacy of the Troubles in Northern Ireland. The exhibition has been shown in diverse places, from arts festivals to Cathedrals (Coventry, Norwich and Leicester) and includes panel discussions with representatives from the world of art, the academy, the church, the military, the legal profession and the world of campaigning and activism. 
Selected publications
The Philosophy of Susanne Langer: Embodied Meaning in Logic, Art and Feeling (London: Bloomsbury, 2019).  
'Transcendence Re-mixed: On the Complex Role of Religion in Contemporary Art', in W. Stoker and W.L. van der Merwe (eds), Culture and Transcendence: A Typology of Transcendence (Leuven: Peeters, 2012), pp. 163-178. 
'From Vision to Touch: Returning Beauty to Lived Experience', The Other Journal (June 2009) On-line. 
'Art and Embodiment:  Biological and Phenomenological Contributions to Understanding Beauty and the Aesthetic', Contemporary Aesthetics (on-line, volume 3, 2005). 
'The Invisible and the Sublime: From Participation to Reconciliation', in James K. A. Smith and James H. Olthuis (eds), Radical Orthodoxy and the Reformed Tradition: Creation, Covenant and Participation (Grand Rapids: Baker Academic, 2005) pp. 89-106.