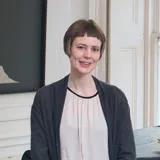 Dr Áine McMurtry
Reader in German
Contact details
Biography
Before joining the department at King's in 2012, Áine McMurtry was Lecturer in German at Durham University. She previously taught at the Universities of St Andrews and Oxford, where she also held a Junior Fellowship at The Queen's College from 2007-09. Áine McMurtry carried out her PhD studies at the Universities of Oxford and Hamburg funded by the Alfred Toepfer Foundation and the Arts and Humanities Research Council. She has spent extended periods in Vienna researching in the Manuscripts Department of the Austrian National Library and was Reviews Editor for the international journal Austrian Studies from 2012-16. Áine makes sustained efforts to draw together research and teaching through student translation projects and school study-days, screenplay workshops, and reading-performances, activities she considers crucial to the future of the discipline, and so she regularly collaborates with cultural partners in bringing German-language writers and filmmakers to the UK..
Research Interests and PhD Supervision
Modern German and Austrian literature and culture
Experimental Writing
Translingual Texts
Critical Theory
Cultures of Migration
Áine McMurtry's research field is modern German-language literature with specialization in twentieth and twenty-first century experimental writing. Combining critical theory with close text analysis, her work develops reading strategies to explore how power is exercised but also challenged through forms of language and discourse. Her first book, Crisis and Form in the Later Writing of Ingeborg Bachmann (2012), drew on extensive archival work to cast new light on one of the most important German-language writers of the post-1945 period. Examining little known lyric drafts that Bachmann wrote during personal breakdown, it argues that she pioneered a disrupted textual practice during the 1960s to expose the socio-cultural contexts of subjective disturbance.
The political interpretation of experimental writing also motivates Áine's recent research on contemporary responses to forced migration. In 2018, she was awarded the annual essay prize of the Critical Theory journal Paragraph for an article that reads a translingual politics of speech and performance in work by the cross-disciplinary artist Caroline Bergvall on the current crisis in the Mediterranean. Her current book project - Voicing Displacement – directs these towards contemporary translingual texts which urgently seek responses to ethno-nationalist movements. Drawing on materialist and postcolonial perspectives, she has developed theoretical framework through which to analyze how experimental engagements with voice challenge apparently fixed forms of discourse. The project treats contemporary texts by the multilingual authors Tawada Yōko, José F.A. Oliver, Uljana Wolf, Peter Waterhouse and Sharon Dodua Otoo. By re-interrogating the mechanisms and politics of projects to liberate words, images, and textual practices from dominant strictures of cultural tradition, her work seeks to conceptualize how translingual works of literature challenge hegemonic discourse and its categories to reimagine language connections. Áine McMurtry has further published on Herta Müller, Emine Sevgi Özdamar, Kathrin Röggla, Tawada Yōko, José F.A. Oliver, contemporary Austrian politics and culture, and has been involved in a number of collaborations with filmmakers from Austria. By examining multilingual processes of transfer and translation, Áine's long-term concern is to reveal how cultural engagements can shift subject positions by holding forms of language to account for their forced exclusions.
As Research Students Lead, Áine McMurtry has grown the postgraduate community in the German department to one of the UK's largest with around 22 current PhD students. She has fostered a lively departmental culture that places King's amongst the most active German departments in the UK, convening a weekly research seminar and mentoring PhD students in dedicated workshops and seminars. In the International domain, she administers the Departments Joint-PhD research degrees together with King's international partners, the Humboldt Berlin and University of Stuttgart. Áine McMurtry has supervised funded PhD projects examining German-language texts of post-Yugoslav migration, monstrous texts in the post-human age and collage techniques in contemporary German writing on traumatic histories. Her students have been awarded and nominated for dissertation and book prizes. She welcomes MA and PhD projects on any topics related to her research and broader interests in modern literature and film; any interested students should please contact her directly.
For more details, please see her full research profile.
Teaching
Áine McMurtry teaches at all levels in the German department with courses on modern literature, film and culture from the eighteenth to the twenty-first century, as well as on translation. She has a record of research-led curriculum innovation, diversifying the German curriculum in ways that foreground gender and ethnicity, and integrating minority voices throughout her courses. Examining diverse cultural artefacts, her courses tend to focus on the interrelation of culture and politics and she makes frequent efforts to incorporate aspects of her collaborations with writers and filmmakers into her teaching by both bringing artistic practitioners into the classroom and taking students out into the city to engage with London's rich cultural offerings.
Expertise and Public Engagement
Áine McMurtry's research is characterized by active engagement with cultural practitioners, which has included collaborations with the Southbank Centre, the Institute of Contemporary Arts, the Free Word Centre, the British Library and the Austrian Cultural Forum. She has led events with such writers as Felicitas Hoppe, Julya Rabinowich, Maja Haderlap, Olumide Popoola and Tawada Yōko, as well as the Oscar-nominated director Ruth Beckermann.
Most recently, Áine has been collaborating with the cross-disciplinary artist Caroline Bergvall on a German-dialect translation for an upcoming show at Munich's Jewish Museum on visible and invisible language borders. She also served as simultaneous translator for the Romanian-German Nobel laureate Herta Müller at a sell-out British Library reading, and she frequently moderates at UK readings and screenings.
Together with Aya Theatre Company, she worked as dramaturg on a multi-media performance of letter correspondence between Ingeborg Bachmann and the poet Paul Celan, which premiered at the Royal Festival Hall. In 2018, Áine McMurtry guest-edited a journal special issue for Austrian Studies, 'Austria in Transit: Displacement and the Nation-State'. Its 17 articles emerged from a London conference that hosted international collaborators from the academic, artistic and charity sectors. Cultural partners supported public events on forced migration in pan-European context with talks, 4 film-screenings and a photographic exhibition at King's and the Institute of Contemporary Arts, highlighting the connection between her research and pressing socio-political and humanitarian questions.
Selected publications