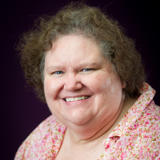 Dr Eileen Daly
Senior Lecturer
Contact details
Biography
I completed my Bachelor degree in Chemistry at Northern Kentucky University and then work at the Laboratory of Neuroscience at the US National Institutes of Health.  I started working at the Institute of Psychiatry in 1997 and was awarded a PhD in 2014. 
My main research interests are in the field of neurodevelopmental disorders.  Currently, I am leading a pharmaco-challenge of the serotonin system in Autism Spectrum Disorder. This involve neuroimaging using functional MRI. 
I am the programme lead on the MSc in Clinical Neurodevelopmental Science. 
I recently co-edit the Serotonin System: History, Neuropharmacology and Pathology with Dr Mark Tricklebank 
Research Interests
Developmental Neuroscience 
 Autism 
Serotonin  
Pharmaco-challenge studies using brain imaging  
Research Groups
AIMS-2-Trials https://www.aims-2-trials.eu