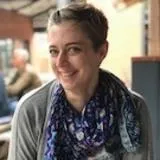 Dr Kristen Schuster
Lecturer in Digital Curation
Contact details
Biography
Kristen Schuster completed her PhD at the iSchool at the University of Missouri in 2016. Before working on her doctoral degree Kristen completed her MS in Library and Information Science with an emphasis in archival management at Simmons College in Boston Massachusetts. 
Research Interests and PhD Supervision
Digital curation and knowledge organization for cultural heritage
Research and data management for DH and cultural heritage
Gender studies and theories in DH and information science
For more details, please see her full research profile.
Teaching
My three primary areas of teaching cover: knowledge organization and representations; digital curation and digital cultural heritage;  gender issues/gender theories.
Expertise and Public Engagement
List Manager: Society for the History of Authorship, Reading and Publishing (SHARP) (2019-)
Member, DARIAH Research Data Management Working Group (2019-)
Member, Digital Preservation Committee Sub Committee for Research and Practice (February 2019-)
Selected Publications 
Schuster, K. & Dunn, S. (eds). (2020). Handbook on Research Methods in Digital Humanities. Routledge.
Schuster, K. and Grainger, J. (accepted, 2020). Digital cultural heritage: Collaborating with students and discovering lost museums. Education for Information.
Wang, N.E.; Kelley, B.; Price, L and Schuster, K. (June 2020). Beyond the multidisciplinary in fan studies: Learning how to talk among disciplines. Transformative Works and Cultures.
Schuster, K. and Stewart, K. (accepted, 2019) Using constructive alignment to support Metaliteracy in international classrooms. Journal for the Association for Library Science Education (JELIS).
Schuster, K. (2019). Libraries and literacy: Andrew Carnegie's philanthropy in the American Midwest. Philanthropy & Education, 2(2), 75–94. DOI 10.2979/phileduc.2.2.04